Raya is a celebration in which people gather to rekindle #ThoughtfulConnections, near and far, and to create wonderful memories together.
Whether you're celebrating in town or returning to hometown, these Raya gift ideas are ideal for the occasion. Simply choose one of the simple, affordable Raya gift boxes listed below and leave the rest of the work to us.
Wonderful Gifts!
While Ramadan is a month of reflection and acts of kindness, let us help you ease your rekindling with these simple, thoughtful Ramadan gift guides that are appropriate and do not break the bank. These items are ideal for gift ideas or for simply treating yourself.
Whether for Sahur or Iftar, the Kareem Box is brimming with treats to keep you going. Start or end your day strong with the sweet jar of Sukkary Dates and Mixed Dodol, or satisfy your cravings with the crunchy Pistachio Nuts.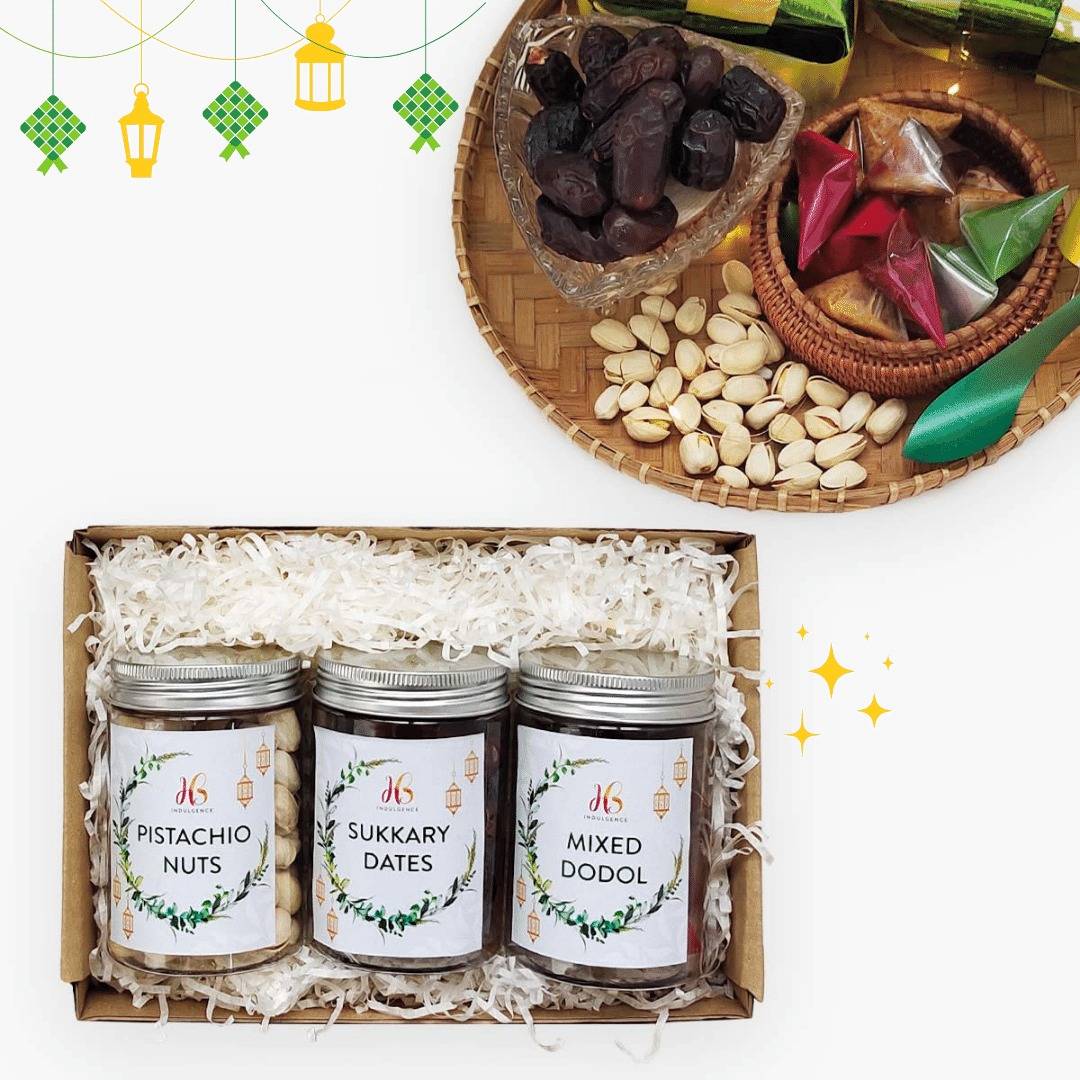 A day of fasting and reflection leads to a calming end to the day with a savory, joyful meal with your loved ones. You can do just that with our Iftar Essentials box. If you're looking for something spicy, the Chicken Curry Cooking Paste or Sambal Bilis Cooking Paste will do the trick, or if you're looking for something quick and easy, the Serunding Ayam is perfect to be mixed with any food of your choice for a satisfying meal.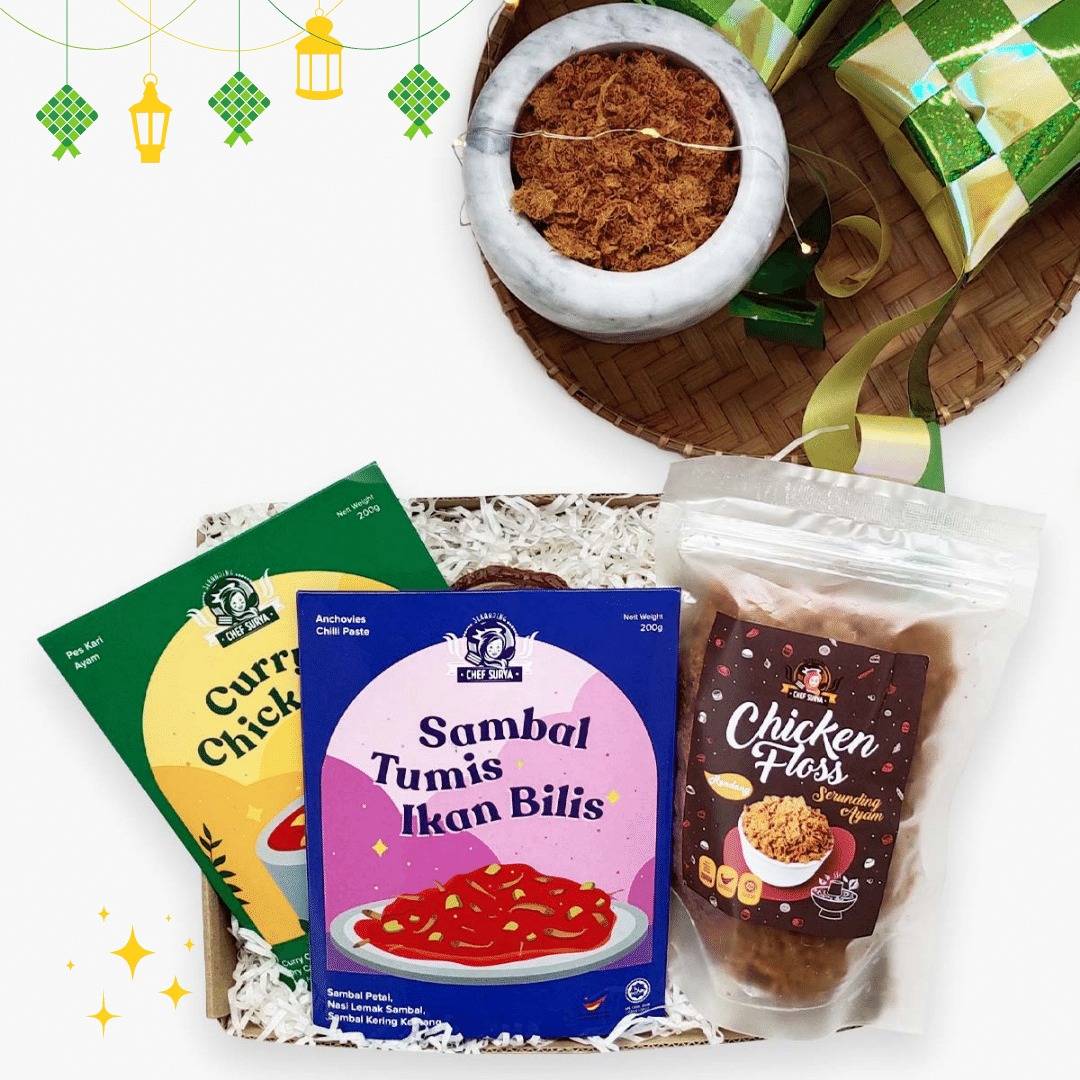 Celebrate togetherness with bright colors and sweet treats. You get the best of both worlds with the Warna Warni Box. Tempt your taste buds with rich, chocolatey Brownie Cookies or have some fun with sweet, buttery Rainbow Cookies with your loved ones (or if you've decided to finish it all by yourself, that's fine too!).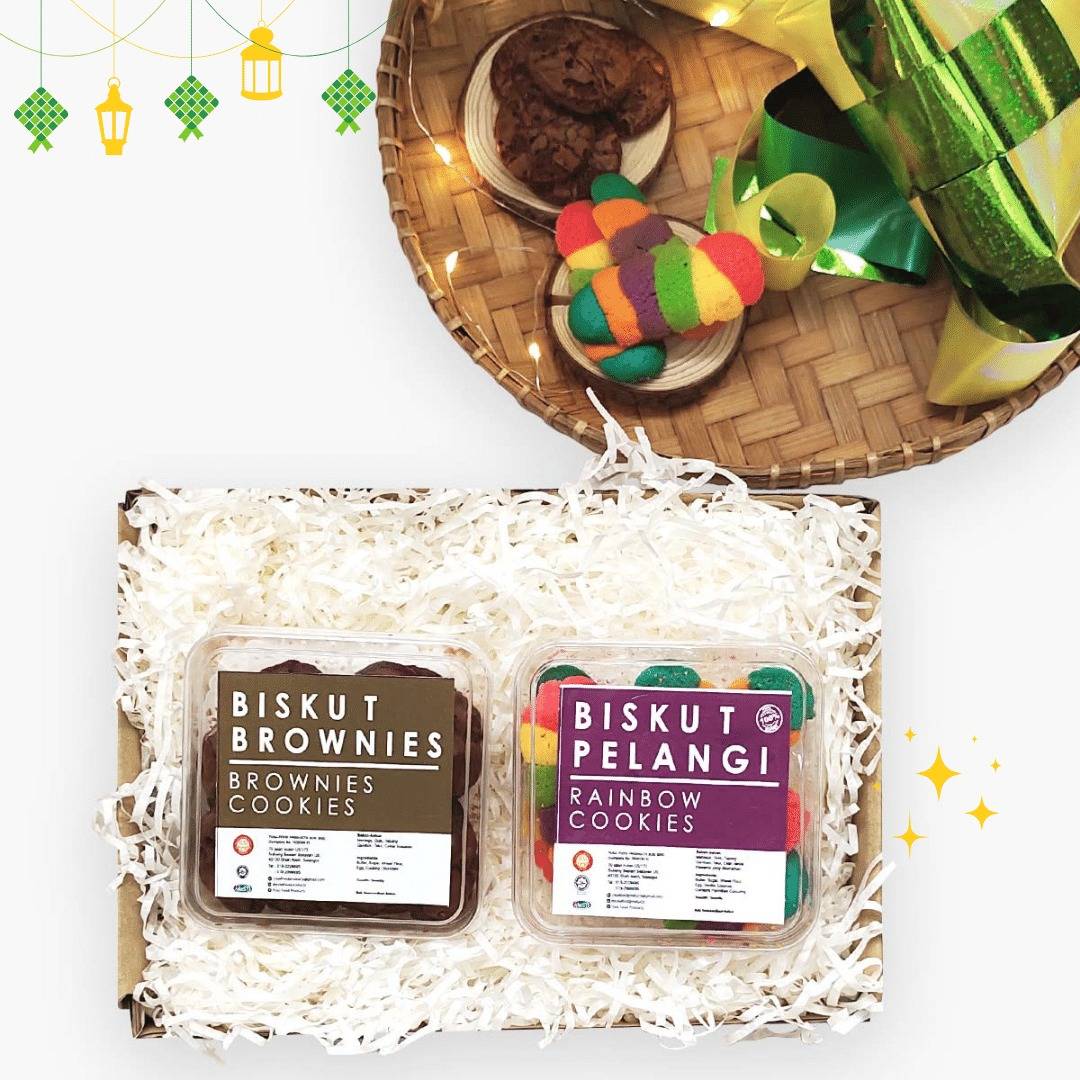 Commemorate #ThoughtfulConnections with your loved ones with a delectable assortment of artisanal Raya cookies to fuel all of your meaningful conversations. Serve the Lotus Biscoff Cookies, Pineapple Tarts, and Nutella Cookies with a good cup of tea and let the spirit of Ramadan and Raya flow in.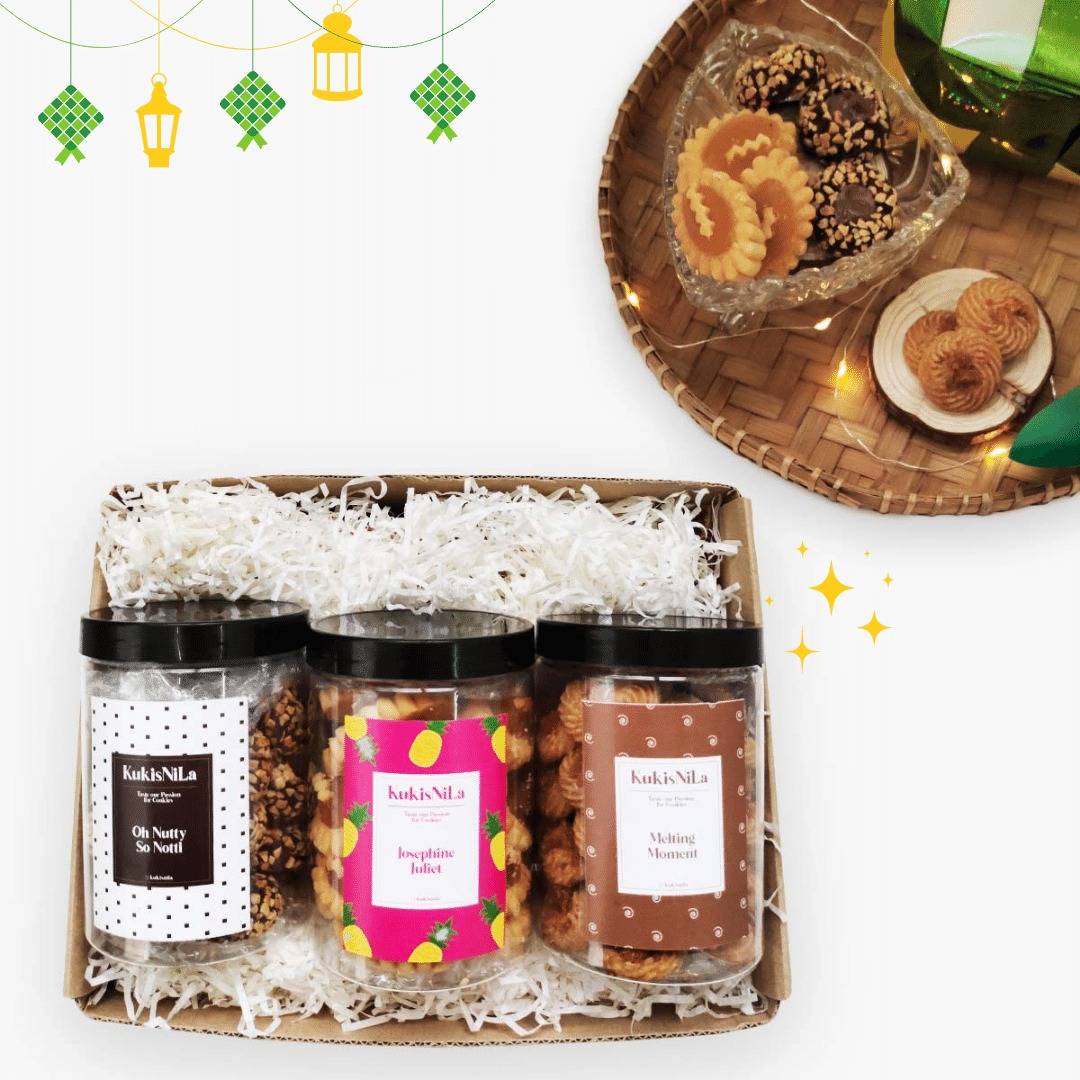 Because you know them best!
Browse from a wide range of handpicked local & seasonal treasures, ready to be wrapped in this limited edition, Emerald Box with love. All you need to do just pick the items you love and we'll create that magical, one-of-a-kind box for you.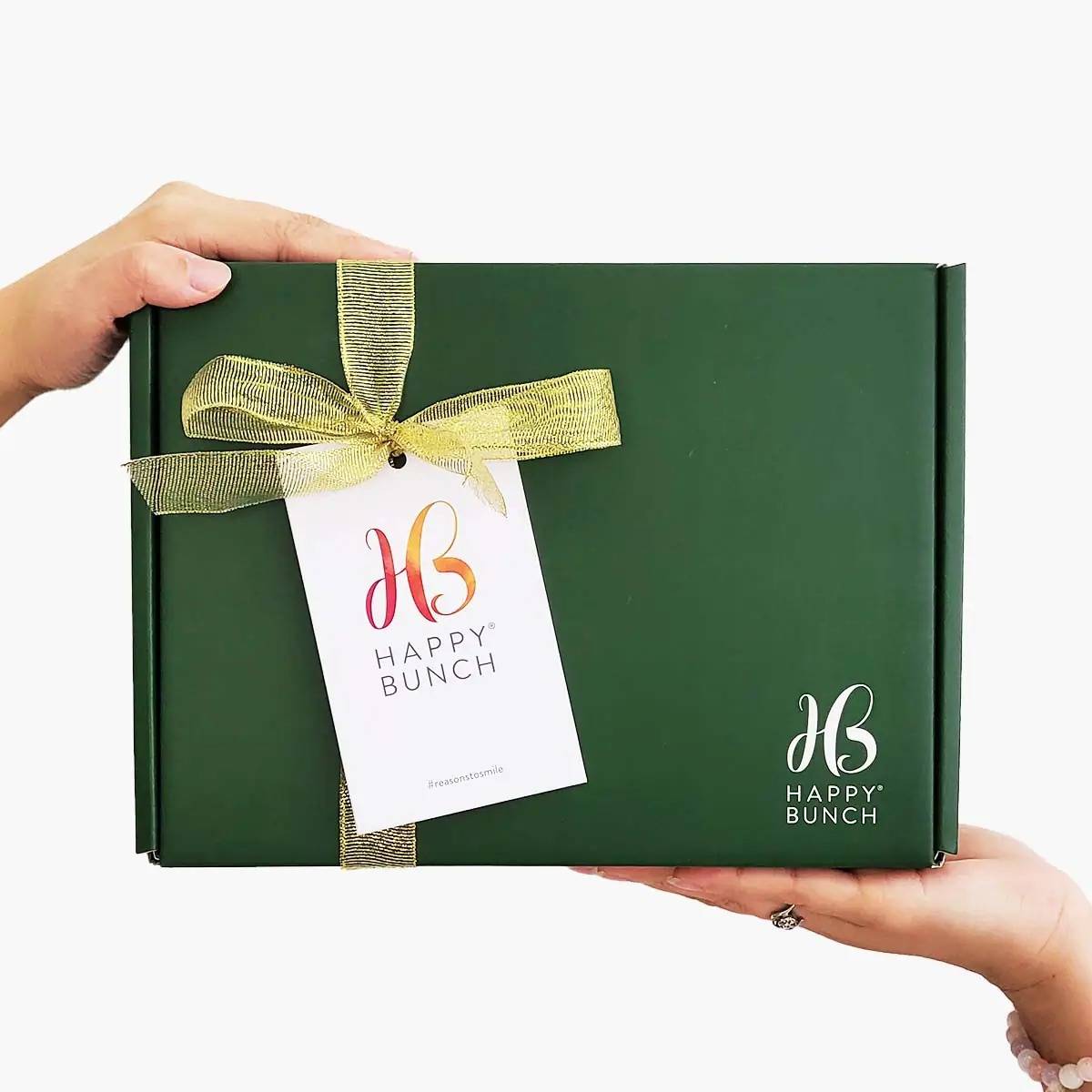 Bring out your inner beauty this Eid Mubarak.
Flaunt your beauty while remaining modest with the Izara Satin Silk Shawl in the shade Luna, a mix of Brown & Black colors with Orchids and kuih raya inspired design, a special collaboration between Happy Bunch and Just You, that can be easily be paired and matched with traditional or modern attire. Be the fashionista, your way this Raya!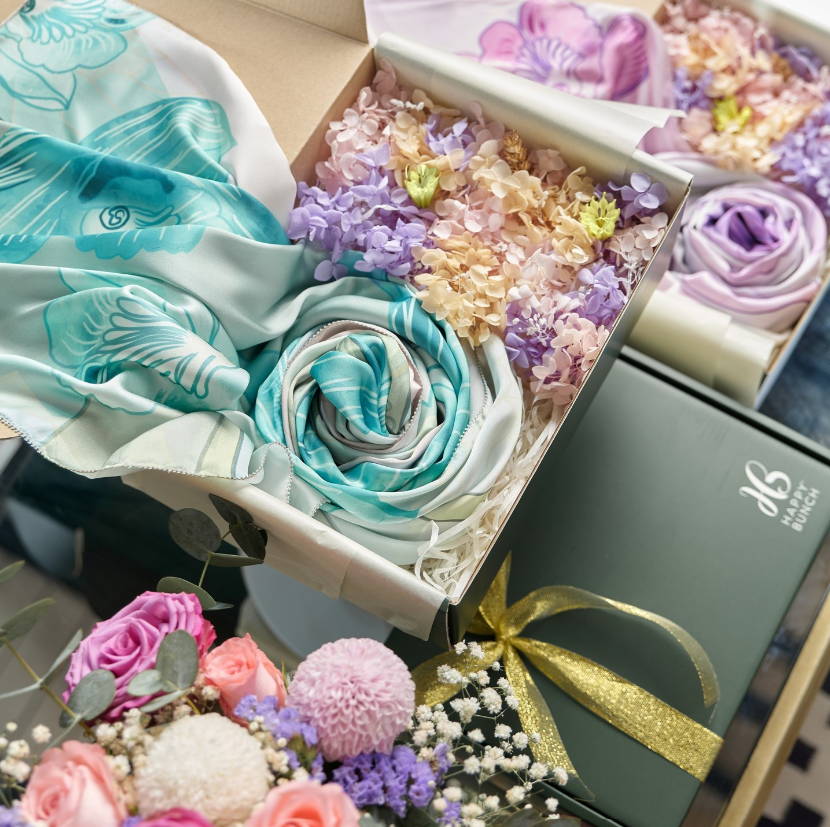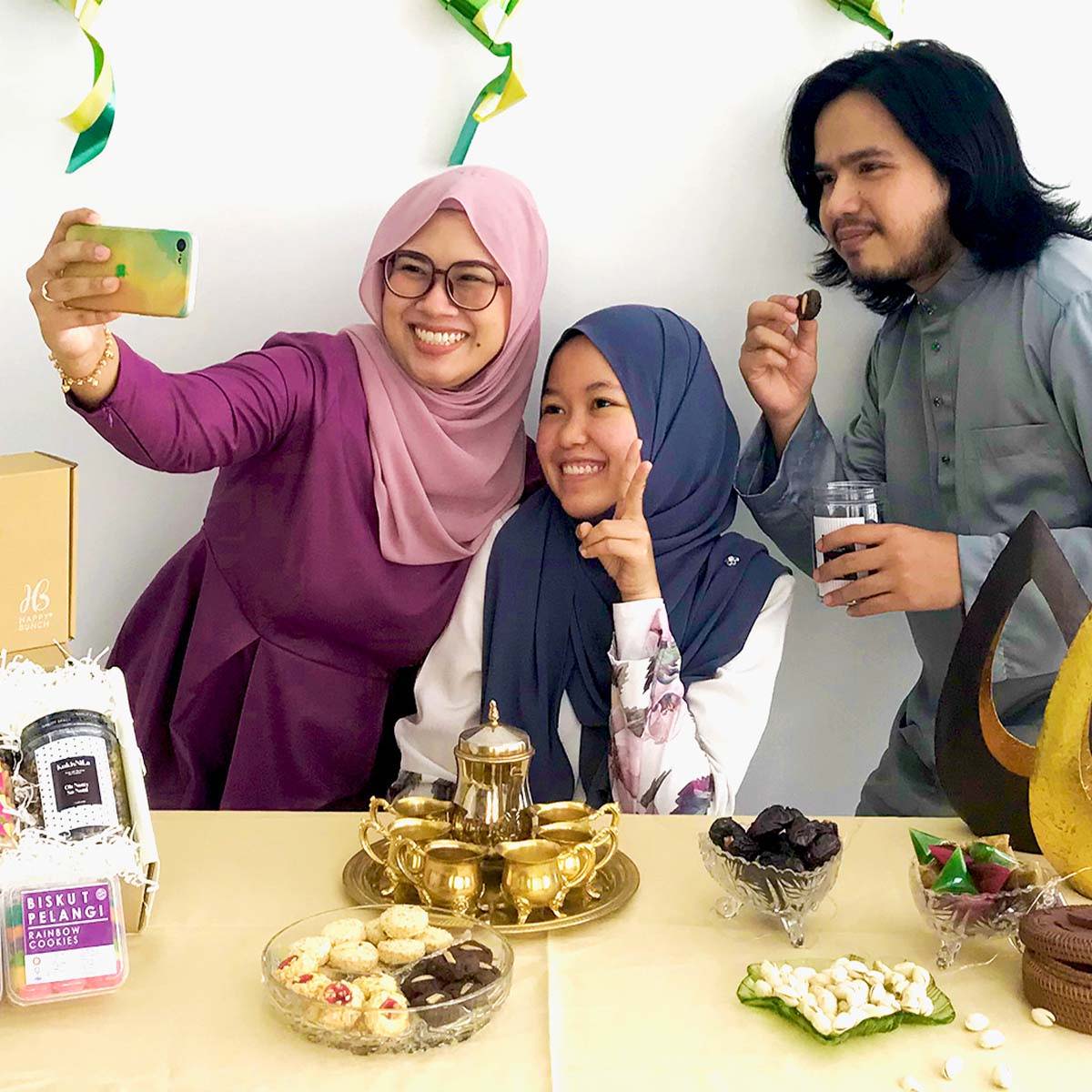 Let us elevate your Raya corporate gifting needs to a strikingly memorable way this Hari Raya, while still keeping to the timeless traditions of gift-giving. Suitable for your most valued customers, clients and employees, we'll curate the perfect gift and deliver it straight to their doorstep – fuss free! To learn more, mail us at partners@happybunch.com.my today!