Mother's Day Gift Collection 2022
The hardest profession out there has to be hands down, Motherhood- But it is also the most commendable and rewarding one of all.
She has the tendency of putting the needs of those whom she cares and loves above her own, and has sacrificed her own dreams so that we can realise ours. Not only that, but she has helped to shape us to be the best versions of ourselves.
An epitome of gentleness and sternness, bravery, strength, patience as well as selflessness, she is truly Godsent, and whether she's our mother by blood or simply by chance, life without her in it will definitely feel incomplete.
A mother's gift to us is her whole life and entire being. So, this Mother's Day, let's tell her she's the greatest gift we could ask for and remind her, "Hey Mum, you are wonderful!".
With our latest collection of beautiful bunches which start from only RM49, you can show your love and appreciation to all the mummies in your life this mother's day!
For Mummy Dearest, the Lioness
This is for the mums who don't have to say much because her actions never fail to show us that she loves and cares for us. Even in her quiet temperament, she is a lioness, ever-ready to show up and defend her loved ones when she is needed.
The latest Ava Bunch bouquet by Happy Bunch is a simple yet classy rose bouquet that is perfect for Mummy Dearest, the Lioness.
It is beautifully arranged with the sweetness of light pink roses and adorned with hints of Baby's Breath and Caspias for that soft touch.
It's definitely a bouquet that perfectly describes a mother's love; beautiful, simple, delicate and kind but also undeniably strong and courageous.
The Ava Bunch is sure to leave your Mummy Dearest's heart blooming with love and joy.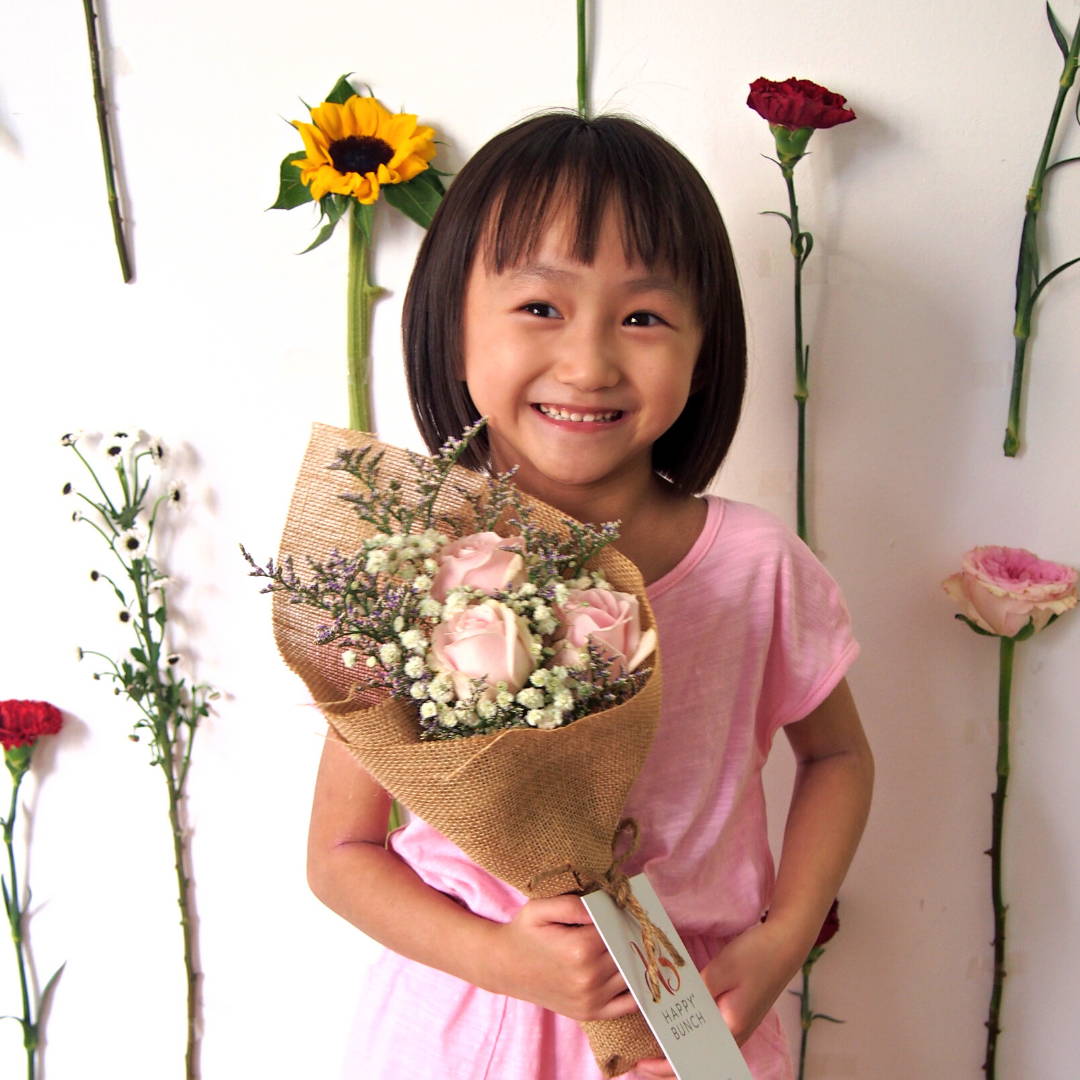 For My Mum, My Best Friend
Secrets? What secrets?
This is for the mum who is also your best friend, go-to person, cheerleader, No. 1 confidant and shoulder-to-cry-on.
The Hana Bunch ultimately describes the relationship the both of you have, which is beautifully colourful!
For all the times she has been there for you, through the shared laughs, petty fights, teary heartbreaks and all of your highs and lows, tell her you couldn't have asked for a better best friend than her.
Starring the traditional Mother's Day flower, the carnation, and coupled with bright purple Statice and lovely touches of Eucalyptus leaves for an added personality, the Hana Bunch is sure to brighten her day!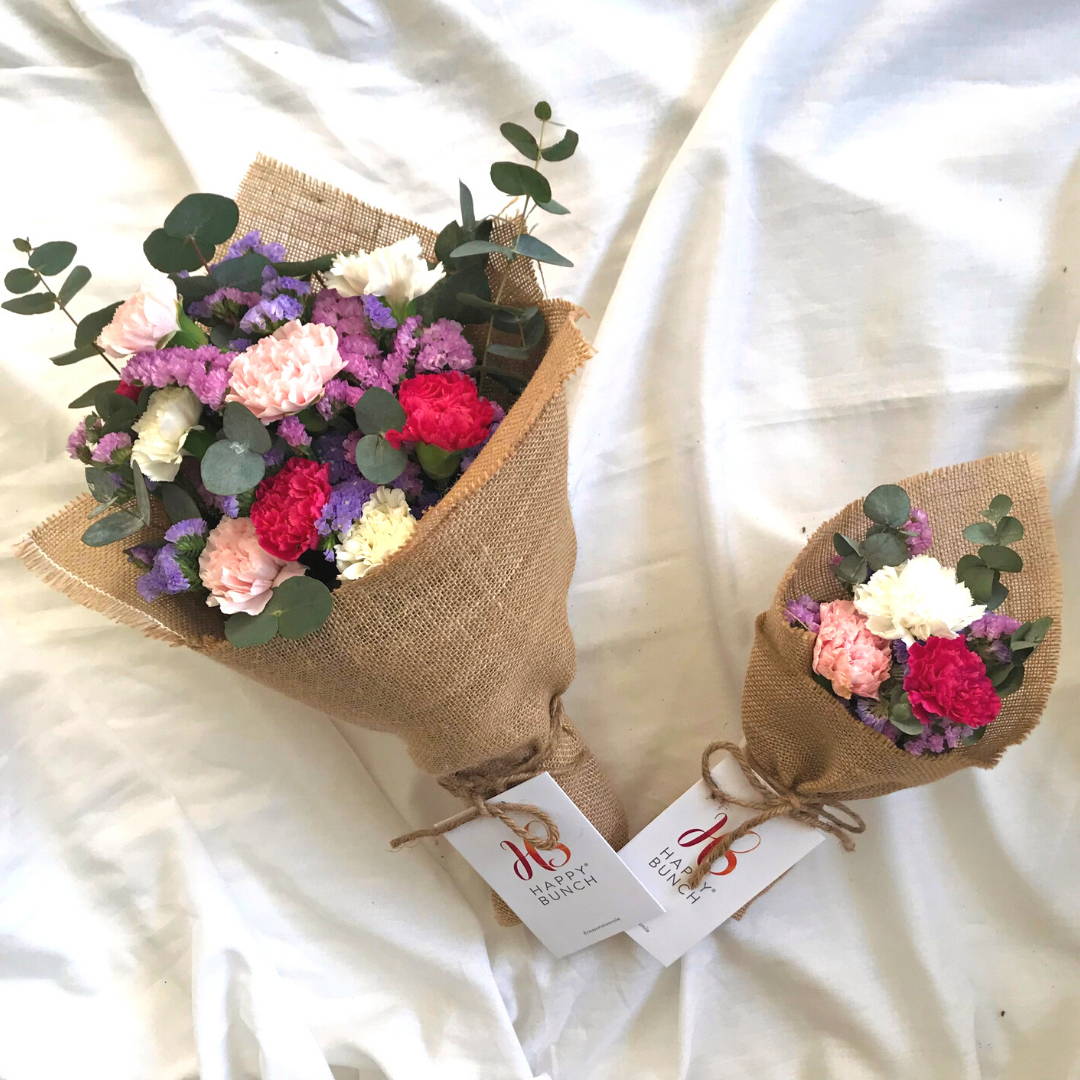 Yes, we all know that one mum who is the Hot Mama of the group.
Not only did she graduate with honours in Motherhood, but she definitely knows how to still look and feel her best, and it is that confidence that makes her hot.
No mother-duty is going to let her neglect her own well-being and self-care that she does her best to make time for, and we love that about her! Because she knows that if she takes good care of herself, she will in turn be able to take care of her loved ones better too.
So, why not celebrate this mama and show her your love and appreciation by surprising her with a bouquet of our Peaches Bunch?
The Peaches Bunch is a combination of sweet champagne and soft pink Roses, with touches of purple Statice and fresh tea leaves for a beautiful finish.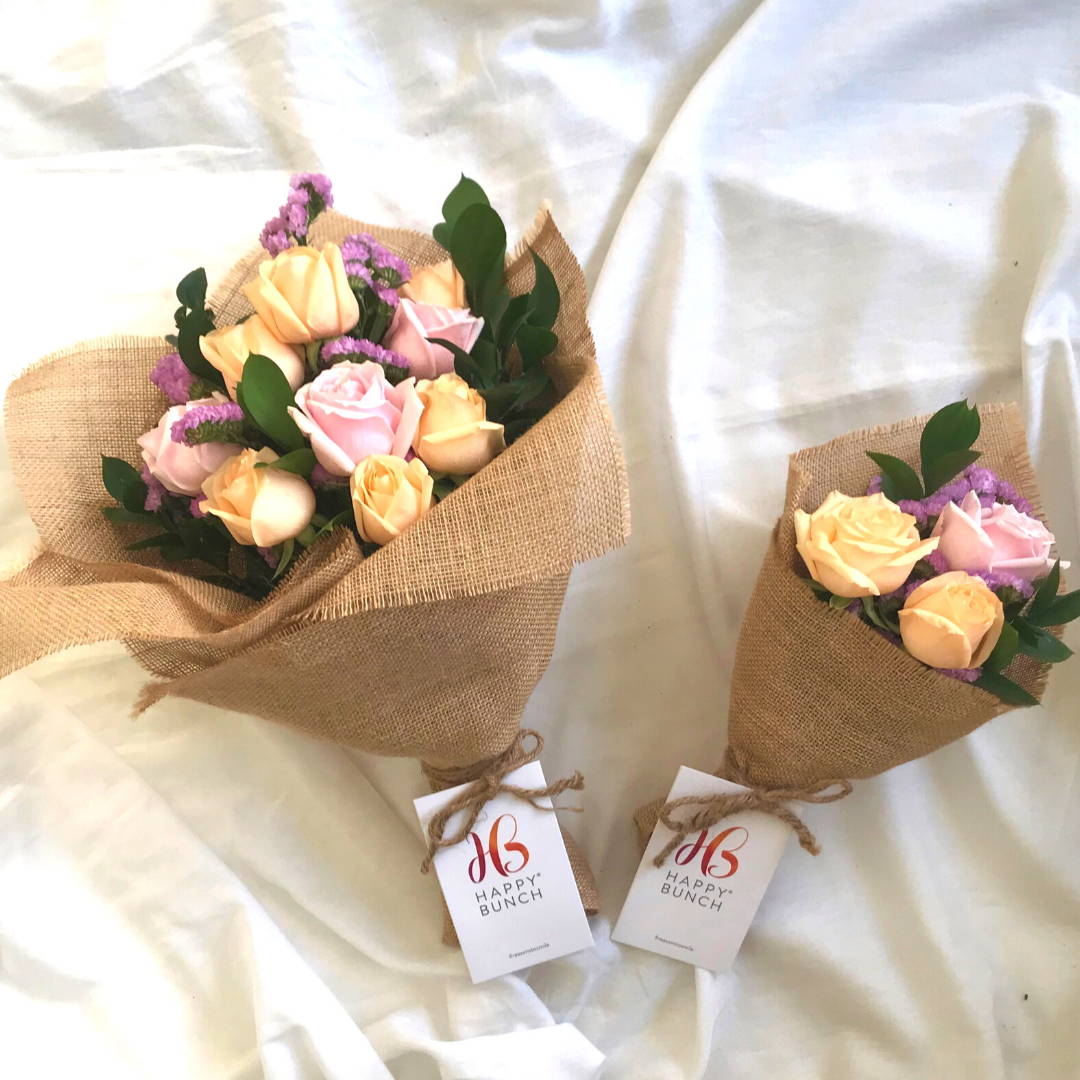 She's a boss in the office and a boss at home, but still plays the role of 'mum' all day, every day.
Sometimes you wonder, "How does she do it?". Juggling between a career that she loves and her all-time passion for being a mum is no easy task, and yet she seems to do it so effortlessly!
She is the type of mother who will take no nonsense from anyone, especially not from you- but for a very good reason. You know she's tough but she loves you and supports you, regardless.
This Mother's Day, let your Boss Mum know that she deserves all that she works hard for and more with the latest Elegant Bunch by Happy Bunch!
As its name suggests, it is truly an elegant creation that combines delicate purple Roses, soft pink Orchids, pink Carnations and hints of purple Statice and Caspias.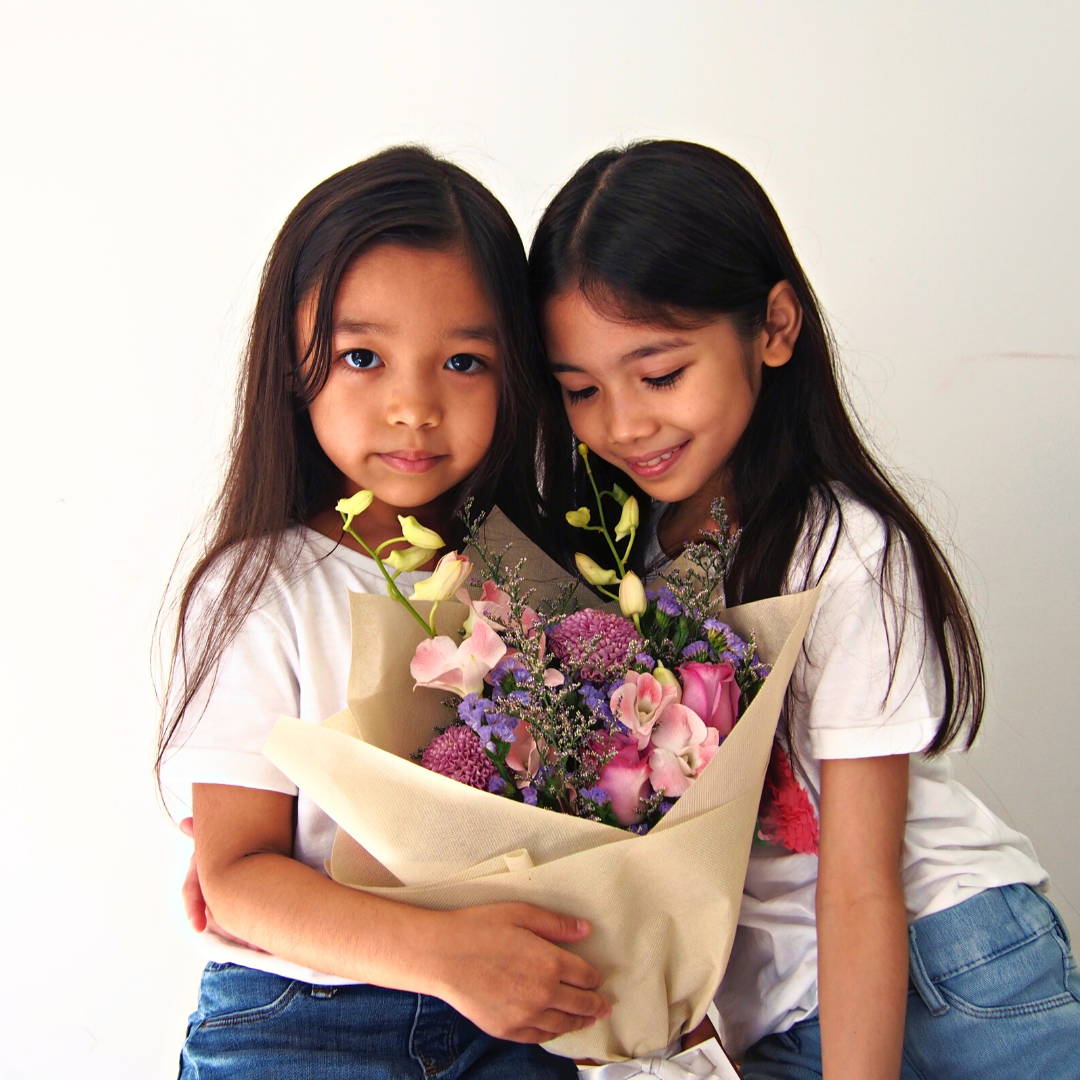 For My Mum, My Guiding Light
This one is for the mummies who never fail to be our guiding light, especially when we are faced with hard times and lose our way.
She somehow understands that we sometimes go astray and need it to eventually find our path in life. However, through it all, she walks beside us with her hands in ours, and lets us know that no matter what, she's always there for us.
Mothers like these are a treasure, for sure. She supports us in every way and loves us despite the times we made some bad choices.
Show your mum how much her love and support means to you by gifting her the Kate Bunch, another latest creation by Happy Bunch.
Starring the lovely florals of yellow and white Roses, pink Alstroemerias, with hints of white Spray Chrysanthemum, Thlaspi and Tea leaves, the Kate Bunch is sure to light up her day this Mother's Day.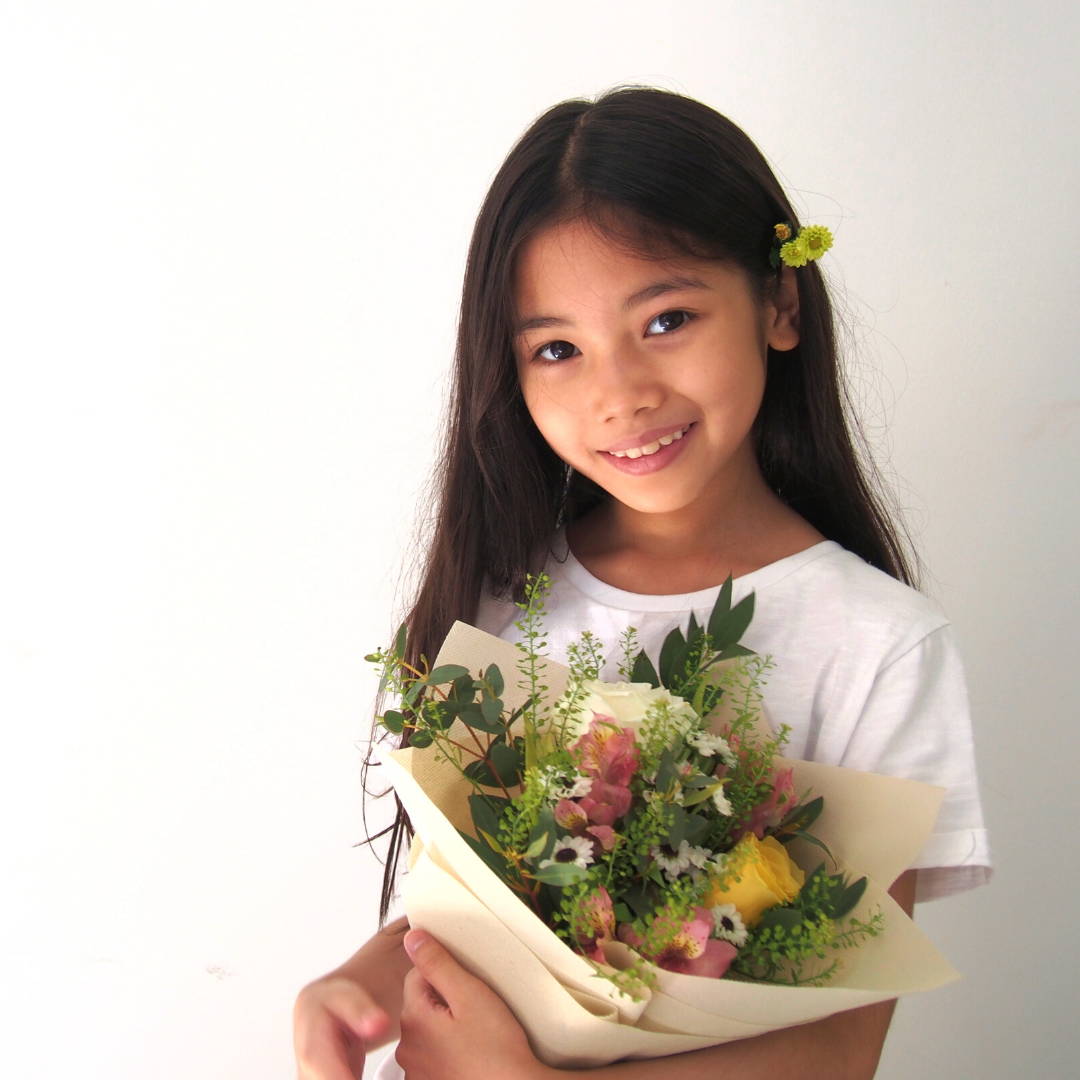 For The Mother to Everyone
This lady has a pure heart coupled with a mother's grace and care, and she shows it to most of the people she knows.
She's the motherly friend, sister or colleague of the group who looks out for you even if you are not bonded by blood. Her maternal instincts are also always on point, so watch out!
Because mothers come in all forms, this group of women who have stepped up to the role in our lives, especially when we needed it the most, deserve to be celebrated.
Thank her and show her you love her this Mother's Day with the Happy Bunch Evermore Bunch!
This latest bunch from Happy Bunch is beautifully put together with soft pink Carnations, white and pink Roses, and adorned with hints of Baby's Breath, green Spray Chrysanthemum, bright purple Statice and fresh Eucalyptus leaves.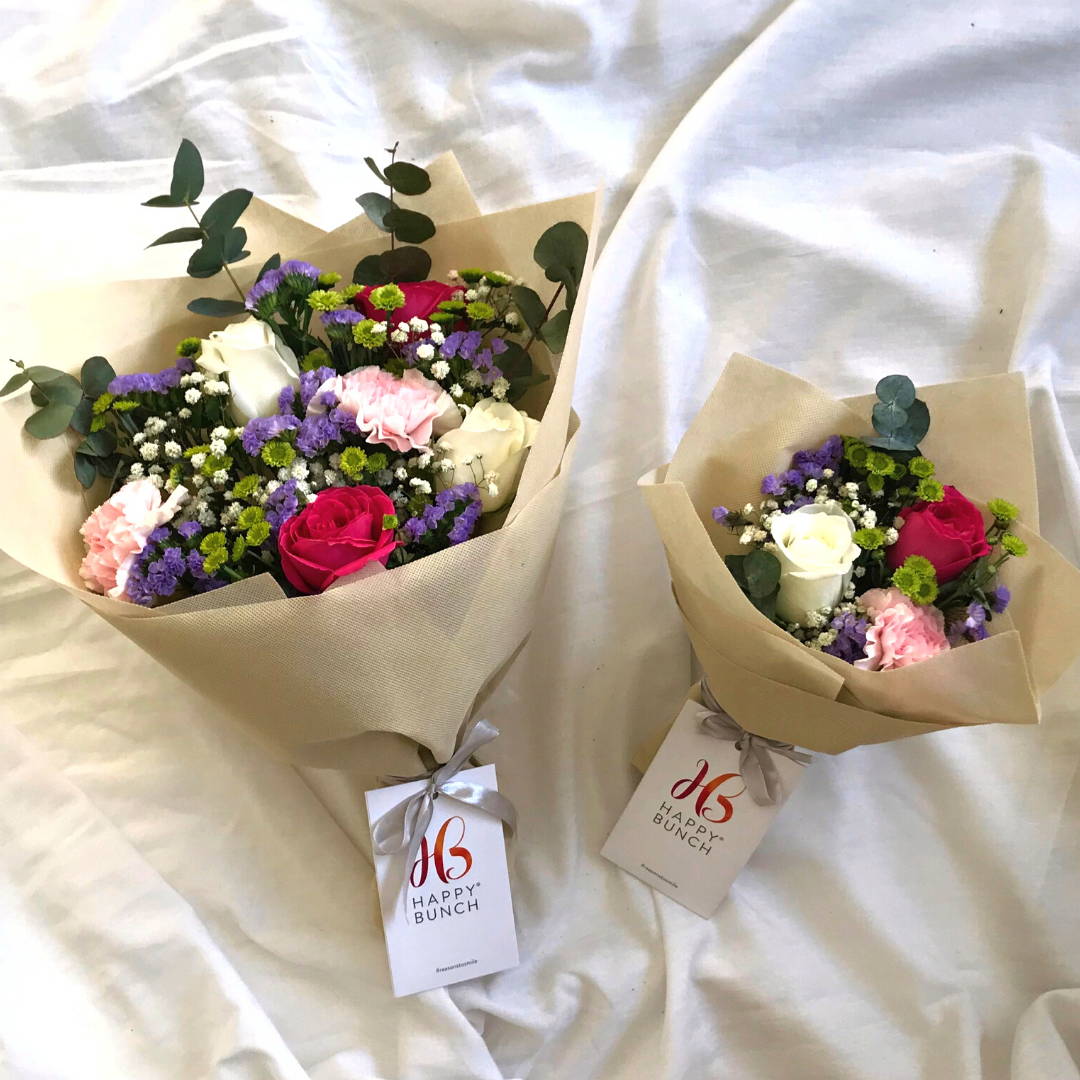 For The 'Beauty' Queen of Your Heart
This mama is a beauty both inside and out, and she's a queen and ought to be treated like one, especially this Mother's Day!
Give her a deserving surprise with our Sahara Bunch that's sure to put a smile on her face.
The Sahara Bunch is adorned with Carnations of various colours, bright pink Roses, Caspias, and touches of Wheat and fresh Eucalyptus leaves that's fit for a queen!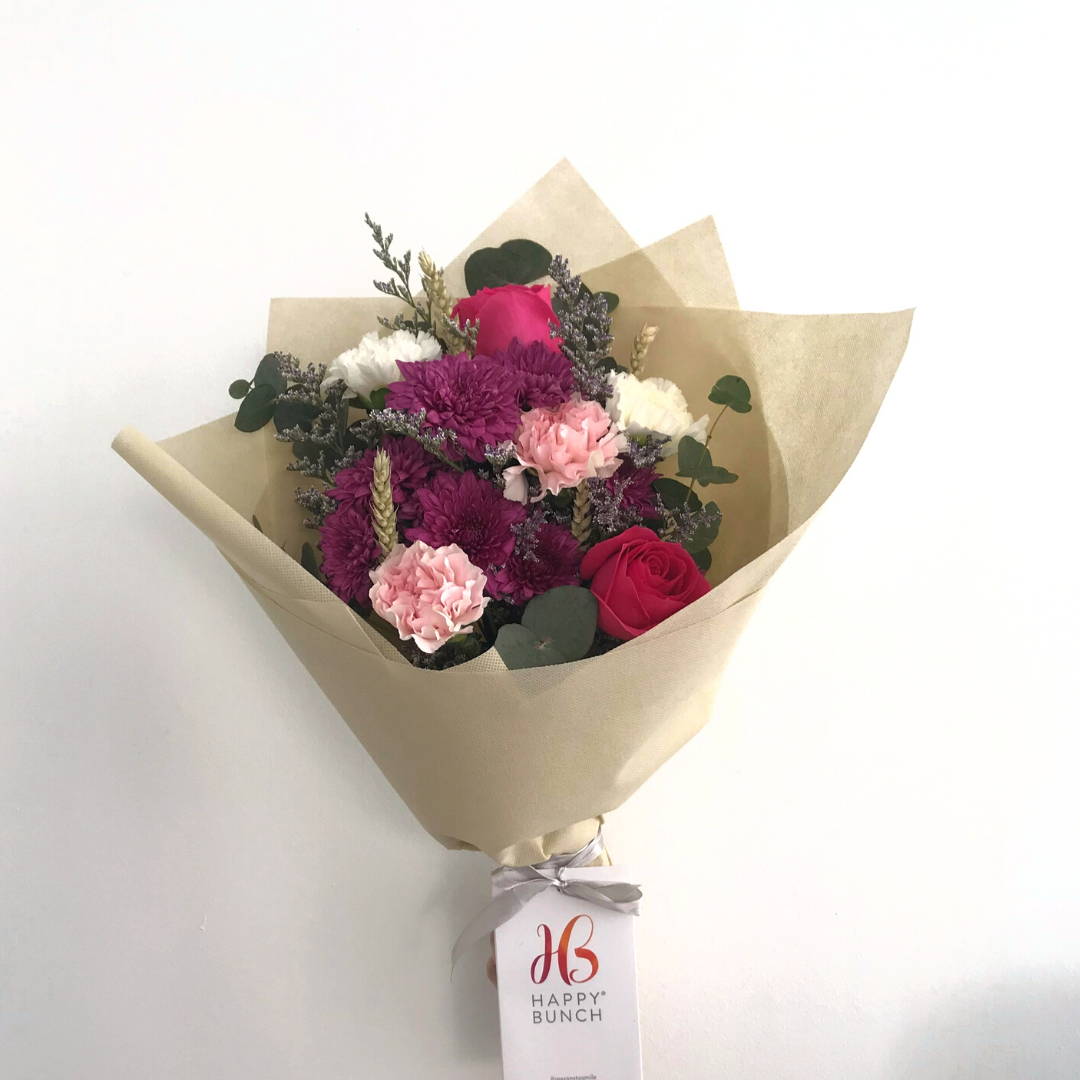 Sometimes our mums don't know that they mean the world to us because we forget to take the time to remind them that they are Wonderful.
Whether it's finally picking up the phone to have a quick chat with them, taking them out to a nice dinner or gifting them with our lovely bunches and gifts, let's do what we can to build #ThoughtfulConnections with them this Mother's Day.
From all of us here at Happy Bunch, Happy Mother's Day, Mama! You are wonderful!